Master bedrooms and baths on the ground level are a good resale feature.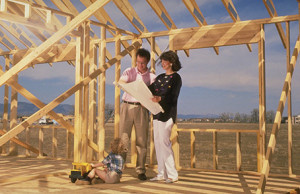 This linked document shows you the typical new construction progress.
It is always important to consider resale – circumstances change.  Most buyers need to see the room being used for what they want it for.  They know with at least four bedrooms they can use them for exercise rooms, offices, children's bedrooms or playrooms.  Don't turn extra bedrooms into big laundry rooms and closets or you will have a bedroom shortage at resale time.  A room must have a closet to be considered a bedroom for real estate listings.
Do you know the Property Brothers from HGTV? Twins – one a real estate agent the other a contractor. Their advice for renovation is to upgrade the look of the entire home for resale if just doing the kitchen leaves the remainder of the home looking dated. They feel an overall uplift is superior to just one area looking good. The good news is if the kitchen is updated, the remainder of the rooms can be quite inexpensive to freshen up! They have a system – one knowing the market and the other making it happen for the allocated price. The team usually renovates three rooms for $50-100,000 but these are the rooms that are detailed on their show. The remainder of the home is usually renovated also but at an additional cost.
Call and check out estimates with Hauser Designs. We're not your twin, but we know how to make it happen! For the cost of a consultation fee, you can receive optional suggestions that you may not have considered!
Drawing for possible remodel of the kitchen of the residence
The current layout of the kitchen is so convoluted that it is slowing down offers. The realtor requested a drawing of a potential remodel layout to have an option to show potential buyers. This is a good idea for you to keep in mind when selling your home. A drawing is an inexpensive way to show a prospect options.  The home is in the Biltmore Greens 1 subdivision of Arizona Biltmore Estates on the Links Golf Course at 5415 N 26th St Phoenix AZ.  View the drawing.
Staging to Sell
Declutter!
Show rooms as they are intended for use. More people want a dining room than a pool table in the dining room! If it's a bedroom, it needs a bed, etc.
The furniture remaining in the room should fit the scale of the room and the pieces work together.
Each room needs a focal point and supporting points of interest. Is it the view? If there is one, don't compete with it. If there isn't one then art is usually the main point of interest. From that point, balance out other supporting areas with a variety of compatible objects.
Eliminate artificial greenery. Replace old throw pillows. Add new candles and burn the wicks.
Appeal to all of the senses. Good smells like coffee or cookies baking. Subtle background music. Turn the lamps on in dark areas.
Open window coverings for good views and partially close coverings in rooms lacking views.
Dots Legend
Tip
Energy
Universal Design
 Residential Design Elements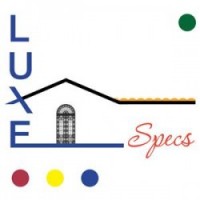 All data and information provided on this site is for informational purposes only.  Luxespecs.com makes no representations as to accuracy, completeness, currentness, suitability or validity of any information on this site and will not be liable for any errors, omissions, or delays in this information or any losses, injuries, or damages arising from its display or use.