If you are remodeling or building a new home, know that bathrooms are unlike any other area and require the most trades, sometimes in the smallest space!  And unlike a kitchen with appliances and more cabinetry, the bath also has isolated areas to understand and be knowledgeable about.  His and hers masters are very popular for luxury homes.
Toilets:  Self contained and easily replaceable if flooring is not an issue.  The most popular is TOTO or Kohler.  TOTO is an industry standard for low water use coupled with dependable function, but if you want the sani-gloss finish on the inside of the bowl choose a style with the SG designation.   Styles and prices vary; the soft close lid has also been a great improvement.  If you want the lever to match the other finishes on hardware it must be specified.  If you want a flat top to hold tissues, select the style accordingly and if you want it to disappear as much as possible the new Geberit has the tank in the wall!  Additional features are the comfort-height (slightly higher) and bidets or all in one with the toilet for water-based cleansing (washlette).  Touchless models are available from American Standard and Kohler.  For an enclosed toilet area the minimum space is 32"x60".   Lauren, Villeroy &Boch and Duravit have urinals and bidets as well.   Allow 30" standing room.

There is more inspiration and information on my Pinterest boards!
Bath Details   Great Sinks   Cabinetry    Countertops
Showers are done by the stone/tile installer and typically natural stone in custom homes.  A relatively new option is natural stone or porcelain veneer.  This option is a large format of 4'x8′, 4'x9′, etc.  It eliminates grout for the most part and in some situations can be used over existing materials.  Due to more exacting installation requirements use installers trained for these products.  New and exciting design options are interesting to explore with these options.  Eliminate the shower door if you have enough space for a more open look and one less surface to clean.  The architect will draw showers of sufficient size so a door is not necessary.  With a 60" length from the water source you need curbing, but ideally with more length or a snail the curbing can be avoided.  The entry to the shower can be a zero threshold walk in for easy access.   This is also a feature for aging in place and accessibility due to injuries.   The sloped floor toward a stainless, plated drain (California Faucet, Newport Brass or Ebbe ) or infinity/trough drain  (ID Infinity Drain) will complete the high end shower.  If you are not using the trough drain the drainage should not be where the occupant will be standing. The floor is typically 1"x1" or 2"x2" tile or stone/grout to add traction.  Better shower pans are becoming available for a seamless look and ease of installation.  Add a bench inside or out for your convenience.  Walls of stone or tile complete the space.  Waterproof backer board and bracing for grab bars is necessary.  The patterns for the walls may be the focal point of the area or need to tie in with adjoining areas.  Interior designers typically create these design details depending on trim pieces that may be needed and tie in with other materials, spacing with the other bath features, universal design and function.  The details need to be drawn to scale for use by the installer and installation measurements are rarely compatible with CAD drawings.  If you are not there to oversee the installation the pattern will not be what you expect!  Horizontal showers are now available as well.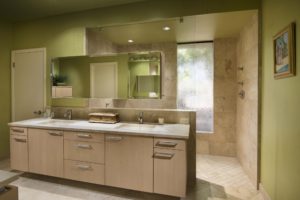 Consider Rohl, Dornbracht, Waterworks, and Kohler for the faucets, handles and shower heads needed.  Other interesting companies provide diverse selections.  Lever handles are universal design specified for faucets and can easily be incorporated.  Hansgrohe Clubmaster is a well rated shower head.  Now we are into multiple shower heads, overhead rain showers, body sprays and hand held sprays.  We recently completed a bath with a ceiling tub fill (splashing/tub size and placement of water source during rough in all have to be calculated), adjoining shower with body sprays (small enough space so they do hit your body), overhead rain shower (hope you wash your hair every time you shower), controls at the entry so water temperature is correct (or use an auxiliary pump for instant hot or on command hot) and don't forget the new attractive grab bars.  I typically install these level @ 42-44" high from finished floor (aff) and use for balance and drying cloths.  Add blocking behind wall prior to drywall.  Need light?  Let an expert assist you to meet code.   Also the entrance to the shower needs to be at least 27" wide.  The architect will apply the codes to all of these areas. If you are remodeling without inspection it is especially important to hire a licensed contractor that follows through with coded areas. These codes are for your safety.
Don't sacrifice the shower for a huge tub if you always take a shower and rarely bathe!  Unless, of course, it is the look you are after!  Does privacy count in the bath?  Apparently not as the tubs are in the middle of the room and the showers clear glass.  It is your home, be comfortable!
Depending on the style of the home there are great looking sleek contemporary tubs, wood tubs, stone tubs and footed tubs.  Jetted tubs are still available, as well as calmer circulating water (BainUltra) tubs and soaking tubs without added features. Kohler offers 17 tub models from acrylic, enameled cast iron, Lithocast to cast resin. A hand spray added makes the tub useful for other purposes.  A special order pole allows you to raise the faucet to shower height or lower it for easy access if you are bathing children.  If your tub is a drop in with custom surround a 12" deck allows you to sit and turn into the tub and use it for seating in general.  Tubs are made of plastic (gel coat or acrylic), porcelain and enamel finish over a metal composite and cast iron. the later two are more durable, but heavier to ship and install and can be colder.   Avoid steps in the bathing area.
Broan-Nu Tone has a great light/fan combination
Brizo, Rohl, Kohler, Hansgrohe and Grohe will give you an idea of styles available, but there are at least 25 reputable companies that make bath faucets, handles, shower heads, towel bars and accessories.  *the most popular finishes for these items are brushed nickel, stainless steel, satin nickel and polished chrome.  Oil rubbed bronze is popular in traditional and old world designed homes  Ventilation is covered by code, but there are sensor models that turn on and off automatically and are very quiet.
The sink area of the bath is often the main focal point.  Typically the master has two sinks that may be together or separate.   If they are not together they are not such a focal point, so may be flanking the tub or another focal point, or just divided for separation of space.  Trending-vessel sinks that sit on the surface of the bathroom cabinetry.  Check height of faucet and compatibility with handles or use wall mounted which require correct measure/rough during framing.  This style is typically more contemporary.  But the rules of design are made to be broken.  Many companies such as LaCava and Zephyr are making sink and cabinet combinations.
Pedestal sinks are a great look, but eliminate storage below so may not work in the master bath.  Kohler, Waterworks and others have many examples.  Under mount sinks are more utilitarian with maximum countertop space and cleanability.  For a more elegant look a self rimming sink is a more decorative look.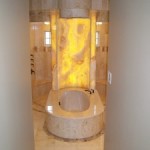 Bathrooms usually have mirrors and the most popular trend now is a hanging mirror with wall mounted sconces flanking each side.   Additional lighting can be provided with overhead cans.  Chandeliers are a great look for general illumination.  Variety is good so not every bath in one home needs to have the same look.  Besides the free hanging, individual mirrors that are available from many sources the entire space can be mirrored and framed with tile or wood.  This gives the most spacious look.  These mirrors are cut to order by a glass and mirror company.   The tile or molding should be installed first and then the measurement taken for the mirror unless the moulding is to be glued to the surface. The mirror can also be cut to accommodate a surface mounted light fixture.  Custom homes should have finished lighting and mirror detailing in the bath including the secondary baths.  An unfinished mirror that does not get any trim detail and fill most of the space is insufficient.  Mirror panels are available with televisions.  Full length mirrors with moveable side mirror panels allow clothing to be checked and also add visual space to an area.
Robern, Restoration Hardware, Boyd and others make mirrored medicine cabinets if you want to store drugs.  Need refrigeration?  Medical situations may require bathroom refrigeration.   Add sufficient electrical for toothbrushes and hair dryers along with storage for them and makeup next to where they will be used.  Grounded outlets are necessary to meet code.
Tip:  Steam features-Mr. Steam.
Tip:  Recommend to use 3'0″ doors for universal design for individuals using walkers, wheelchairs, etc. and for ease of furniture movement and overall scale.
Tip:  Apply universal design in baths and kitchens.   In larger homes it is easy to do and facilitates aging in place.
Tip:  Electrical outlets near water need to be grounded, i.e. kitchen, bath and exterior.
Tip:  Interesting grab bars are now easier to find. Try Invisia or GreatGrabz.
Tip:  Use anti-scald valves (pressure balance) in guest and children's ares  to prevent temperature changes.  Delta's Temp2O showerhead has easy to see red and blue color cues and temp. readings
Tip:  Use toilets that conserve water.
Kohler's LED Nightlight technology on the back rim creates a blue glow for safety in the dark;
Tip:  Use tempered glass for windows near stairs, doors and in baths for safety.
Tip:  Electric water heaters are usually 50-75 gallons.  Bradford & White, American and Rheem are good brands.
Tip:  Tankless water heaters are efficient with gas.
Tip:  Gold colored metals are back! Maybe your bath isn't dated and some of your accessories will now be the latest thing!
Tip:  ThermaSol In-Shower lighting with LED technology is a soft, dimmable option if you need additional lighting in this moisture sensitive area!
Brizo's Odin collection includes a single handle electronic lavatory faucet that has rotating handle motion .  It offers hands free Smart TouchPlus Technology.. TemplQ showcases an LED light to indicate the water temp.
Kohler has RealRain DTV+digital showering system and VibrAcoustic hydrotherapy. Their Bluetooth wireless speaker – Moxie can be used inside or out.
Newport Brass's top selling lavatory faucets:  920, 930, 1030, 1620, 1200, 1770, 2030 and 2040-this is constantly changing but will give you a start-
All of those wonderful looking floating tubs do have to have a tub fill. A tub fill originates from the floor to fill the free-standing tub. Brizo Virage is a statement in and of itself! Available in 5 finishes and with other faucets and accessories, this group is beautiful. Brizo is a leader in SmartTouch Technology – one touch and you will be hooked on the ease of use.
Dots Legend
Tip
Energy
Universal Design
Residential Design Elements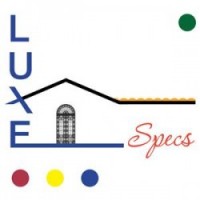 All data and information provided on this site is for informational purposes only.  Luxespecs.com makes no representations as to accuracy, completeness, currentness, suitability or validity of any information on this site and will not be liable for any errors, omissions, or delays in this information or any losses, injuries, or damages arising from its display or use.