Cabinetry consists of boxes and doors.  Better cabinetry has upgraded glides and hinges such as Blum-check for quality prior to replacing doors or painting cabinetry.  Well made boxes can be reused.  Custom companies measure the space and size the boxes accordingly.  Modular companies make the most used sizes and fill accordingly to add spacers to fill in.  A door company typically makes doors for many cabinet companies.  So a cabinet company can be custom with mass produced doors or the company may be truly custom and make, carve, detail their own doors.
For great contemporary cabinetry:
Bulthaup-many finish options and great specialty pull outs define these European companies
Eggersmann
Pedini
Poggenpohl
Poliform
Semantic
Scavolini
Snaid
Tip: Update a bathroom with vessel sinks added to the top of existing cabinetry that may be dated because it is low. Most bath cabinetry is 36" high now.
Need to plan for universal design? Start with a vanity area that can be adapted later for special use.
Recommendations for custom cabinetry in the greater Phoenix area and servicing all states:
Brothers Woodworks
Burdette
Desert Valley Concepts
Goodall
Linear
Rysso-Peters
Tip: Hand carved if it is well done is superior to applied pieces used from catalogs. Experienced companies know when to add custom detailing and integrate pieces from Enkeboll, Art for Everyday, Pearlworks, J.P. Weaver and other catalogs for the best look without all custom detail.  Klise Manufacturing has a quick ship program.  Barger, Smith, Spellman, Sahuaro and Bakker also offer detailing options.
Recommendations for semi-custom and full custom
Affinity Kitchens
California Classics
Cabinets by C&F  including outdoor kitchen cabinets
Downsview
Distinctive Custom Cabinetry
K G Cabinetry & Design
Wolfe Woodworking Inc.
Woodcrest
Wood design
Semi-custom typically works with modular systems and therefore is more cost effective. It can also expedite completion of a project as the secondary bath floors, etc. can be started if the cabinetry is in place. Architects, established contractors and interior designers are connected with reliable sources to facilitate time management connected to cabinetry.
Small local shops:
Brothers Woodworks
Desert Valley Concepts
Rob's Creative Woodworks
Reliance
Neff is a well known, high quality transitional company.
Cabinetry Styles and Colors Chart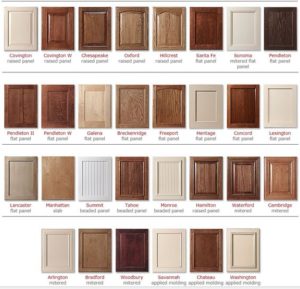 Secondary Areas-Less expensive cabinets can be used if budgeting is an issue. It can also expedite completion of a project.
American Woodmark
Cabinet Solutions
Cholla
Costco-Tuscan Hills Kitchens & Baths
Home Depot
Ikea
Kraftmaid
Stone Creek
Woodcase
Stock cabinets-Cabinet Solutions
Tip: Mix it up! The overall compatibility can work from area to area while utilizing different finishes, hardware, and countertop materials.
Blum hinges are regularly used.
Look for options at the Hafele site and Rev-a-shelf.
Garage cabinets-Premiergarage and Arizona Garage & Closet Design
Tip: Most custom homes use local cabinetry companies due to the ease of onsite measuring. Custom cabinetry totally fills the space without the unused spacing created by modular boxes. It also more easily allows for changes that may occur during construction.
Toe kicks are usually 4″ and typically there is 18″ of space between countertops and upper cabinets.
Typical crown molding for an 8′ ceiling is 6″ and 8″ for a 10′ ceiling
There is a code for the range hood height above the range top or cooktop.  Diagrams included on luxespecs.com pinterest boards
Tip: Television distances for optimal viewing: 50″ screen – allow for 5′ to 7.5′; 60″ screen – 6′ to 9′. Eye level is the best. SunBrite makes a waterproof TV.
Tip: Always repurpose cabinetry if you can. Remember it is in sections (boxes) so the new space doesn't have to be the same as the old. Often new kitchen cabinetry is an opportunity to upgrade the garage or other areas using the old cabinetry. If the cabinets were well made, they will come out in reusable form. A combination of cabinets with different finishes can be painted to match. If you are discarding, call Stardust to recycle. They carefully remove and repurpose cabinetry for free.
Tip: A kitchen remodel doesn't mean you have to replace all of the boxes and doors. Many of the photos shown have different height cabinetry. All cabinets can be painted a new color or two or three colors! Door styles are usually the same but new doors can be added to old boxes.

There is more inspiration and information on my Pinterest boards!
Cabinetry   Kitchens   Baths   Countertops   Great Sinks
Cabinet makers often do not order or specify knobs and pulls. Clarify this early on so ordering is done in a timely manner. They usually, however, drill for them if they are on site. Larger companies will provide options for you to choose from. Top Knob is a large comprehensive company, but there are many companies and in custom design uniqueness counts. For more traditional to rustic designs hand forged is an option. These finishes should coordinate with the faucets, however the use of stainless sinks appliances calls for a coordinating color choice. Oil-rubbed bronze finishes are an old world favorite. Most kitchens with a more traditional look have panels on most of the appliances and therefore there is not as much stainless to conflict with this color. Just one of many decisions that make the kitchen the most complicated area of the home. If you have a tendency to match everything the combination of finishes and mixture of appliances can be a real challenge!
The cabinetmaker may add additional wood detailing to other areas as well, especially if you are adding moulding only.
Other hardware companies include Alno, Schaub, RK International and Mockett.
Different Types of Cabinetry
| | | |
| --- | --- | --- |
| | | |
| One Piece | One Piece | Mitered Solid |
| | | |
| Mitered Solid | Mitered Inset | Mitered Inset |
| | | |
| Mitered French Lites | Mitered French Lites | Cope N Stick Inset |
| | | |
| Cope N Stick Inset | Cope N Stick Applied | Cope N Stick Applied |
| | | |
| 2 Piece Solid Raised Panel | 2 Piece Inset | True 5 Piece |
| | | |
| Applied Molding | Specialty Door | Specialty Door |
Dots Legend
Tip
Energy
Universal Design
Residential Design Elements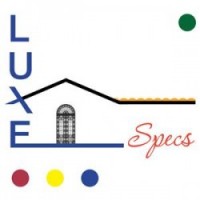 All data and information provided on this site is for informational purposes only. Luxespecs.com makes no representations as to accuracy, completeness, currentness, suitability or validity of any information on this site and will not be liable for any errors, omissions, or delays in this information or any losses, injuries, or damages arising from its display or use.