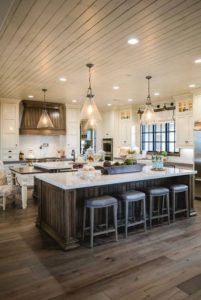 Whenever contemporary design surges to the forefront, another style with more warmth and texture is always soon to follow. The growing popularity of urban farmhouse with a "Fixer Upper" feel gives the cushioned, sink-in-the-sofa feeling many want when they finish the day and relax with family. Barn doors, living edge wooden tables, wooden ceilings and walls, stone details, exposed beams, farmhouse sinks and freestanding tubs all add value to your home.
Contemporary or more traditional, the floor covering of choice is wood. The pre-finished engineered woods have given stability to this popular option. Wood grained porcelain tile is a lower priced option.
Walls are light with either look. Add personal touches of your favorite colors, photos, personal collections and either look extends your personal touch!