Granite is natural, durable and the most widely used material, but marble, limestone, quartzite and the quartz composites are also popular.  Granite does have its limitations in the lighter color range (check Millennium Cream granite, but it depends on the slab) and for contemporary looks that are more conducive to solid or bright colors. The composites allow for more options. Composites are sampled and consistent enough that they can be ordered from the samples and the actual slabs don't need to be checked.  Patterns can be checked in the information provided by each company to determine suitability for the project. Granites, quartz composites and other materials-i.e. wood, metals, can be combined in kitchen projects and the same companies may fabricate both. The starting prices are similar for quartz and natural stones.
Keep in mind that most appliances have some black detailing.  If you don't want the entire kitchen to have the hard look of granite or quartz then add wood on the island.  Quality installers make the difference on handling natural stone pattern match. On the overall patterns this is not such an issue.  Always select your slabs with natural materials (granite, marble, quartzite). Due to inconsistencies don't order from samples.   Designers or architects will match samples to the actual and alert you to variations. Tiles can be used for backsplashes and walls, but countertops should be slabs. Seal when installed and use acid free cleaner and stone polish to maintain.  Adding these surfaces to the side of the cabinet creates waterfall-a current popular look.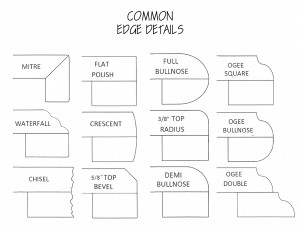 Tip:  Resealing is recommended for natural materials.

There is more inspiration and information on my Pinterest boards!
Countertops   Kitchens   Baths   Great Sinks    Cabinetry
Marble is softer but comes in lighter colors and is good for rolling dough. Sought after colors include Bianco Carrara, Calacatta , Calacatta Luccioso  and Calcutta Gold.  Vermont quarry has a very hard marble.  Honed finishes will be easier to maintain. Marble is susceptible to staining, but for a neutral look a great color choice.
Limestone is harder than marble, has less pattern than granite, but needs more daily care.
Quartz has many neutral shades. Quartz products are not to be confused with quartzite, a natural stone that is quarried and is harder than granite or quartz and more costly! Quartz composites-Caesarstone, Zodiaq, Silestone, Samsung Radianz, Cambria, ForzaStone and others offer light options in quartz-Lagoon, White North, Tigres Sand, Capri Limestone, Blanco Harkie, White Zeus, Mont Blanc, Blanco Maple, Yukon Blanco, Stellar Snow with continual new additions from all companies. These products are typically 90% ground quartz with 10% resins, polymers and pigments. I have had one laying outside in the western sun for a year without discoloration!  (just testing)
Slate and soapstone are softer than granite and scratch marks can be sanded or buffed out. Soapstone is treated with mineral oil, darkens over time and is stain resistant. Slate is often left unsealed.
Lapitec is also a newer option full bodied sintered stone.  Lava stone is very textured and rugged.  Available enameled from France.
Concrete, typically 1-5/8 " – 2-1/4 ", allows for more custom design options that work for specific interiors.  Concrete can stain and crack so it is often cast with steel and polypropylene fibers.  There are literally unlimited options for shapes and colors.  Quartz is now available in concrete colors.
Wood: Maple butcher block is the most well-known but there are other beautiful woods (black walnut) that can be used depending on use and finish.  Consider the proximity to water.  Use food safe oil or hard catalyzed lacquer.  An oil finish is water resistant if maintained and a hard finished countertop is waterproof.
Check William Rogers for beautiful examples.  Typically 1-5/8" or 2-1/4".
Stainless Steel is waterproof and can be used with integrated or under mount sinks. Limitations include potential dents, scratches and finger prints.
Copper, like stainless, is a great look but works best if you eat out most of the time!
Other options:  Glass including recycled, glass and concrete,  zinc and lava stone.
Tip: the material will dictate the amount of overhang you can have for a bar.  Corbels or other means of support may be necessary. Examples of the edging details for countertops are above.
Tip: Cantera stone is from Mexico and comes in up to 20 colors ranging from light to black.  Pinon, Santa Lucia and Cafe II are popular colors.  Cantera is softer than granite or marble and can be used for floor tiles, carved for columns, fireplace surrounds and other architectural elements.

Tip:  Light countertops are trending. What is your personality? The white marbles (Carrara) are a popular Old World look, but can stain.  If you want everything to look perfect maybe a composite countertop (there are many quartz companies) would be more suitable. If you really dine out all the time then either will work!
Thank you Arizona Tile for these images of tile and slab options!

Dots Legend
Tip
Energy
Universal Design
  Residential Design Elements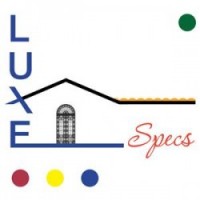 All data and information provided on this site is for informational purposes only.  LuxeSpecs.com makes no representations as to accuracy, completeness, currentness, suitability or validity of any information on this site and will not be liable for any errors, omissions, or delays in this information or any losses, injuries, or damages arising from its display or use.