Your front door is the first impression others have of your home and therefore most custom homes have a custom front door! First impression-it sets the expectation.  This door can be any combination of materials that will hold up to the elements.
Wood, steel, iron or glass combinations are most often used.  With contemporary design the oversize pivot door makes an impressive statement.  Wood species most often used are fir, pine, mahogany and alder.  The entire framing of the entry needs to be considered for these doors.  They are not an afterthought!  Architects, designers and specialty door companies have door styles and custom options.  The style should be compatible with the exterior of your home and an indication of the interior.
Doors are entirely different than window selections as most sizeable cities have local manufacturers for solid core wood interior doors.  Again, the style should be consistent with the overall style of the home.  More detailed doors are found in a traditional home and simpler doors for a contemporary home.  Every style is available in barn doors.  They open up the space without door swings and are great for many applications.  Consider adding a glass panel to doors in areas for light and interest.  Textured or leaded glass adds more privacy while still adding interest and more light. Check diagram for basic styles and description of door parts.
Panel Configurations:
Doors to the exterior (other than the front door) are again dependent on the style of the home with view, exposure and other considerations.  Typically available from the same manufacturers as window options.
Arch Designations:
Steel door frames can be used for the front entry or other doors, such as the master bedroom or dining room to a patio area.
French doors are a great traditional look but remember to add screens or side windows/screens for ventilation.
Arched doors are more expensive for the front entry or interior but add interest and can be used in certain areas for repetition from the front door or windows.
Use specialty doors for double doors into offices and master suites for added interest.  If there are space constraints, use bi-fold, pocket doors, barn doors or Shoji doors.
Fiberglass is a good choice for a weather susceptible exposure.
The following companies have great web sites for ideas for your door:
Panda – pivot doors
Anderson Windows & Doors –   Architectural Collection E Series
Craftsman in Wood – custom combinations of wood, glass and iron
Crittall – steel (Be mindful of exposure with steel frames)
Doorworks  – doors, ceilings, moldings, windows, gates, hardware
Hopes – steel and bronze  (Check direct sun in warm climates)
Fleetwood – oversized contemporary
Janus – all of the traditional options
Kolbe VistaLuxe Collection – extruded aluminum exterior with wood interior
La Cantina Doors
Nanawall (stackable panels open to exterior-great look, no screens)
Pella Window & Doors
Rehme Steel Windows and Doors
Sedona Custom Doors  (available through distributors)
Sienna Custom Window & Door
Sierra Pacific
Tip: Need screens but want an open look?  Use two sliders opening from the center.
Tip:  For ease of accessibility, use 3′-0″ wide doors.  An additional benefit is that the scale often used in luxury homes allows for spacious halls and doorways.

There is more inspiration and information on my Pinterest boards!
Use barn doors for interest and to eliminate door swing. They are available in traditional barn door looks and many other materials that are sleek for contemporary design.
Barn Door Hardware
Arizona Barn Doors
Barn Door Hardware
Bartels Doors
K N Crowder
Real Carriage Doors
Rustic Hardware
The Murphy Door allows additional shelving with the door.
Door hardware is available from Baldwin, Rocky Mountain, Sun Valley Doors, Ashley Norton and numerous companies in addition to custom options.
Also check wireless remote entry systems for various situations.
The window section on pinterest shows examples of windows transforming a space from ordinary to extraordinary!  An arched window topped door leading to a beautiful view will be enjoyed daily by inhabitants!
Dots Legend
Tip
Energy
Universal Design
  Residential Design Elements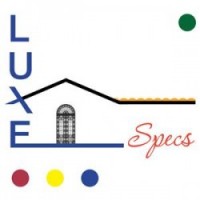 All data and information provided on this site is for informational purposes only.  Luxespecs.com makes no representations as to accuracy, completeness, currentness, suitability or validity of any information on this site and will not be liable for any errors, omissions, or delays in this information or any losses, injuries, or damages arising from its display or use.