Over the years, carpeting has been used less in luxury homes with the increase of stone and wood floor coverings. Carpeting does absorb sound and can be installed over uneven surfaces. Prices vary widely depending on quality. Pad and installation are also additional.
Carpeting is often private labeled so determining the actual mill and comparative pricing is difficult. Price is determined by the amount of fiber on the surface. It can be long and thinner or short and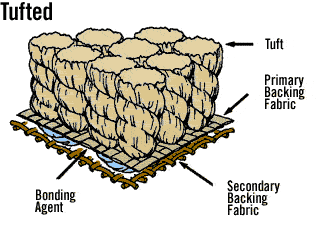 dense- i.e.-shag as opposed to a commercial carpet.
The main area of use for carpet is secondary bedrooms. Broadloom or wall-to-wall carpet is soft and it can also make a room look larger if the color matches or blends with the walls. Light colors are typically used in the smaller areas and all areas seen from one vantage point typically have the same carpet. The current trend in the Southwest for these bedrooms is a subtle pattern.
Wool has a much stronger presence in the marketplace now than in the past. As with wool area rugs, wool is long wearing with natural resilience. It resists stains and is flame retardant. Wool also absorbs pollutants and indoor contaminants. It can be blended with other fibers to create additional interesting looks. The quality of wool varies and this will have an impact on the durability. The higher the altitude where the sheep are raised the better quality the wool. There are off white wool rugs that resist soil and those that attract it. At a reputable store you get what you pay for!
Nylon is the most often used synthetic with many options available. It is a great choice for many situations. With cut pile, it is possible to order extra and replace areas that are accidentally ruined or worn.
The appearance of the carpet varies with pile height and construction. Shag is back! And many other options as well including Swarovski crystals! Loops (used to be called Berber based on the original looped carpet that was made from Berber wool) is typically a lower pile. Looped carpet does show fewer foot prints. Combinations of cut and loop are available as well as sculpted height differences. Frieze refers to a twist in the fiber. If carpeting is used in isolated areas, i.e. exercise area or offices, the type may be specific to that area. Woven carpets including Wilton and Axminster provide additional options.
In an empty home without art and furnishings, a heavily patterned carpet fills in the space, but with all design elements considered – furnishings, area rugs, art, – the carpet may be a secondary surface with color as the key determining factor.
Before buying a patterned carpet, check to see how square and true your room is. There is no way to hide an angle with a pattern that is off.
Established businesses that sell carpet select the best manufacturers. These companies have long-standing reputations. Even with the best of companies, an occasional problem can occur. The carpeting may have a flaw and need to be replaced upon inspection. The retailer may replace the carpet but not pay for the labor. Carpet is not easy to re-sell. For these and other circumstances, it is best to rely on experts.
Green Label and Green Label Plus indicate the carpet has been tested to ensure they are among the least gas-emitting carpets on the market. This is done by an independent company and the designation will be on the label.
Well known manufacturers include Carpet Concept, Couristan, Fabrica, Karastan, Masland, Prestige, Stark and Silvercreek.
Great companies products are available locally through Floor Collection, Floor Styles, Galleria of Floors and Underfoot.

There is more inspiration and information on my Pinterest Boards!