Wood has a warmer look and feel than stone, so is preferred in areas where you want this aesthetic. It is also an insulator. As with stone, determine furniture and rug placement prior to installation. Well placed floor outlets allow electrical access where needed without exposed trims. With new construction the electrical needs to be integrated with the slab pour. I have clients buy area rugs prior to the pour to perfectly place the outlets with the furniture lay out. There is more flexibility with a basement or crawl space.
Click to view classic wood floor patterns.
[slideshow id=3]
For one of a kind looks it is hard to beat reclaimed wood. It has a quality that is hard to replicate with new wood. Companies, such as Carlisle, secure this wood from old buildings and cut and mill it into usable planks. It may have nail holes, knots and splints or be perfectly smooth.
Walnut, oak, hickory and maple are great woods. Job finished is the best look and it can be repaired if need be, but engineered floors have become the norm for their ease of installation and stability. (A thin layer of wood on top with layers under). Some of these allow for refinishing depending of the thickness of the top layer of wood. Unfinished engineered floors are another option. Patterns such as herringbone, parquet and inlays may be considered.
Contemporary: Walnut, maple and bamboo, just use a smooth and perhaps shinier finish. Bamboo has such a beautiful color, but scratches more easily. It is a tough grass, not a hardwood. When it is glued to engineered boards or mixed with resin and pressed into dense blocks and sawn into boards it is as hard as hardwood. It is naturally moisture resistant.
Don't want job finished? DuChateau, Zanella and Provenza provide a premium prefinished product-both are hand finished and provide a finish close to job finished.
Some popular du Chateau finishes are Antique White, Kasteel, White Oiled, St. Moritz and Domenico.
For prefinished use the advice of recommended companies for the best product.
Now that engineered, pre finished woods are most widely used the availability through most floor covering showrooms allows the consumer many options
Add to your budget for rugs-most stone and hardwood floors have great rugs defining the seating areas!
Working on a boat? Mahogany has been a favorite forever. It is impervious to salt-water rot.
Plywood is strong, lightweight, flexible, with a smooth surface for laminating and is dimensionally stable.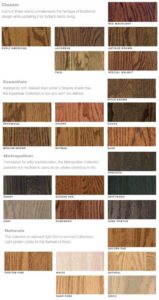 Massaranduba, Santos Mahogany, cumaru, jatoba, tigerwood and ipe are used for interior/ exterior in areas with decks, siding, docking, etc.
Wenge is sought after for its uniform chocolate brown color and popular for furniture, cabinetry and floors.
Thomas Jefferson's Monticello has the original wood floors!
Matte finishes allow the beauty of the wood grain to shine through. High gloss treatments exaggerate damage and cannot be repaired without refinishing the entire floor. They also show dust and scratches more easily. Sometimes worth the effort!
Some finishes have pigment that will alter the color and the wood itself will effect the the end stain color.
Extra narrow planks are more typical of colonial styles.
Varied plank lengths add interest.

Extra wide planks are more contemporary
in feel.
For a more elegant look, consider Herringbone.
Geometric parquets add movement and artistic parquets add a focal point.
Borders, medallions and grates add interest – some availability with laser pre- cut sections.
If area rugs are being used keep your focal point on whatever you want to emphasize or add interest with wood in areas that need it where you are not using a rug.
Solid plank utilizes the entire plank and is typically 3/4" thick. It requires a sub floor to stabilize it and therefore may not be suitable for remodeling. Engineered reclaimed flooring is available with a wear layer glued to the top of plywood. It is typically pre-finished. Remember with reclaimed wood nail holes and kerf marks are desirable!
Distressing can be heavy, medium
or light.
Request samples to select the finish color over the wood you are actually using.
Both oil wax and polyurethane are widely used. The oil wax is more natural and more maintenance.
Brazilian Cherry, Hickory, Pecan are hardest with Walnut, Alder, Maple, Oak and Poplar widely used.
Beech, Birch and Ash are in the middle with Teak, Cherry and Pine the softest.
Strips are under 3" and planks over. Edge options are square, eased, beveled, etc. Plain sawn hardwoods cost less than quarter sawn and rift sawn are very expensive and have limited species available.
The more expensive your home and the higher the ceilings the higher the base may be surrounding the area with the wood floor. If your home is contemporary there may not be any base. Base is recommended for high traffic areas or just for ease of floor maintenance.
Stenciling adds another dimension and can be effective for stair risers and interest in low traffic areas.
A hardwood floor should be refinished every 20 years and is rated to last the life of the structure!
Brazilian and African hardwoods become darker. American woods are more color stable. A variety of grades can sometimes be used for cost effectiveness
Tip: The height of materials needs to be consistent from one area to another. Reducer options are available, but selection of materials can minimize or eliminate their use. Lower areas can be floated to eliminate variations.
Tip: Acclimate the wood on site even if it is reclaimed. The conditions should be consistent with the finished ongoing site use. Have the product delivered after the windows and doors are installed and the masonry and plastering are complete. With HVAC operating at a normal level, unbundle and store hardwood paneling, flooring and millwork for 3-5 days in the room where it will be installed. Store in a dry environment until this can be accomplished if it arrives early.
Solid hardwood floors can be sanded and refinished multiple times. Other products may have some capability of being refinished, but check this carefully as it varies.
Don't install solid wood below grade.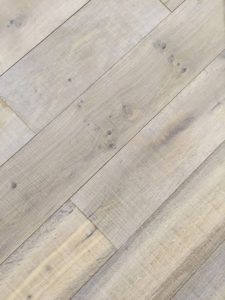 A wood floor that can be refinished can then be matched to a new adjoining installation or repaired area.
The Janka scale evaluates the hardness of woods.
Some of the Phoenix area options –
Arizona Hardwoods
Blackhawk Floors, Inc.
Copper Plank Custom Mill
Enmar Hardwood Flooring Inc.
Premiere Wood Floors Inc
Sierra Hardwood Floors

There is more inspiration and information on my Pinterest boards!
Cork is a renewable resource because the tree is not felled, the bark is harvested. It is durable, anti-allergenic, anti-static, resists mold and is comfortable to walk on. Watch red wine! Frank Lloyd Wright used it in Fallingwater! Cork is acoustical, fire and insect resistant and desert and moisture adaptable. Versacork discs look interesting!
Concrete floors are popular as well. The Portland cement mix is selected for shade and there are finish options. A new floor with a beautiful finish is as expensive as other materials you might use, so choose it for its unique look. Other less expensive versions are cruder, but may be great depending on the space and needs. Acid washing of existing floors may be necessary. Kemiko is a permanent concrete stain that will not fade, chip or peel.
Dots Legend
Tip
Energy
Universal Design
Residential Design Elements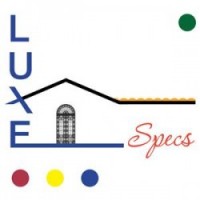 All data and information provided on this site is for informational purposes only. Luxespecs.com makes no representations as to accuracy, completeness, currentness, suitability or validity of any information on this site and will not be liable for any errors, omissions, or delays in this information or any losses, injuries, or damages arising from its display or use.