The impact of great lighting cannot be overstated!  Sufficient light begins with the architect!   Window exposure is key to great interior spaces.  The views can be controlled as well as daylight and the sun. The opposite is true of media rooms or other areas where uncontrolled lighting is undesirable.  An on-site decision to eliminate windows is permanent and may result in insufficient daylight every day you live in the home!  After the architect has done his job, a lighting expert needs to follow through adding various types of lighting to layer the lighting for the interior spaces.  The first layer is ambient lighting flooded by task and then accent.  Recessed cans, chandeliers, pendants, semi and flush mounts along with sconces all contribute to a functional,  inviting and in some cases dramatic living area.
LED technology has drastically changed both interior and exterior options. It is more important than ever to consult with an expert .
LED:  Light Em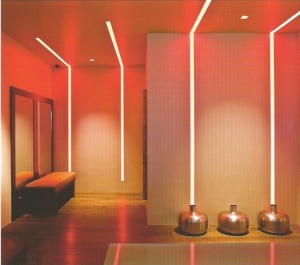 itting Diode lamps are more energy efficient and long lasting.  The pricing in now more affordable and dependability has improved.  
Tip:  LED is a cool light source; incandescent bulbs emit 98% of their energy as heat.  They last 5 to 50 times longer than fluorescent and incandescent.  They are also more rugged and resistant to heat, cold and shock.
Exempt from new standards are a wide variety of specialized bulbs, i.e. appliance and heavy duty.
Some halogen lamps already meet the new requirements.
Still in use are low voltage MR 16's, PAR 20's, PAR 30's and PAR 38's with a 2700 Kelvin temperature and they are dimmable.  These will have warm light similar to incandescent.   The 4" LED can is widely used for general illumination, but the ceiling height determines to some extent what will provide sufficient light.  Low voltage requires a transformer that can usually be located in an inconspicuous space such as a closet.  The transformers are becoming so small that this is often not an issue.  Use a dimmer designed specifically for LED's.  If the transformer is in the lamp a regular dimmer will not work.   Breaking off the fins on the sides of the dimmer derates them.  The electrician should regulate this according to the load going to the dimmer.  The wattage needs to match.  As the new technology evolves the inconsistencies of color and need for special dimmers is diminishing.
RadioRA/Lutron and Maestro are recommended dimmers.

Tip:  You can use 1000 watt dimmers everywhere.  When specifying a dimmer consider lamp type, wattage, location and control options. Dimmers can control one or many lights and can be added during construction or after completion. Chandeliers should have a separate dimmer.   The high CR on the Color Rendering Index means you and objects look better.
Tip:  It has always been easy to take what the electrician has on the truck, in stock and many times from big box stores.  Custom lighting is more demanding and requires more variety of lighting options than you can get from these sources.  To insure that you can see well, that the areas are generally well lit and appropriate visuals are highlighted, it is well worth a consultation with a lighting expert.  Establish specs for the space and/or have the source provide the fixtures.   The following need to be ordered by a lighting expert-directional, task, accent, art, slanted ceiling, lath and plaster typical of old homes and wooden ceilings.   In larger cities, lighting companies provide this service if you are purchasing from them and independent lighting experts are available.  In outlying areas contact with these experts will insure that your end result is not just suitable but exceeds your expectations.  It is more costly to repurchase if there is not enough light than to spend more initially.  Your interior designer and/or architect should have sources they rely on for this information.  This field is changing so rapidly due to the new lighting regulations that getting the best information possible is imperative for what should be an investment purchase.
A 30 degree aiming angle is generally recommended for highlighting art.
LED under cabinet and landscaping options are great due to their longevity.
Low voltage cans provide great color and are available from 2-4" for a wide variety of uses
California codes stipulate fluorescent for garages and closets, but many custom home end users don't want to use them.  If fluorescents are used look for warmer color temperatures which are more desirable in residential settings.
Fluorescent *2700K-3000K fluorescent is a warm enough color that it is used for residential use.  Labels that state Full spectrum and daylight are frequently bluish and undesirable for residential use. Lutron has dependable dimmers for fluorescent. Roscoe makes a gel sleeve to change the color if needed.
GE and Philips are recommended for compact fluorescents.  Philips Ambient LED bulb replaces a regular 60-watt incandescent, is dimmable  and should last 15 years.
To help consumers figure out which new bulbs to buy, all regular lamps must begin to use the new Lighting Facts label.  Lumens indicate how bright a bulb is and watts indicate energy use.  New labeling emphasizes lumens, how bright a bulb is, over watts which indicates how much energy is used.

There is more inspiration and information on my Pinterest boards!
In addition to lighting experts giving you the latest information in this time of transition they will also know custom capabilities.  A knowledgeable expert can insure sufficient light when custom fixtures are being created.  In order to create the interiors you see in magazines many details are coordinated behind the scenes.  Custom painting the fixtures or cans is only the beginning.  Again, if you don't want it to be the focal point it should not be a contrasting color.  You may want the light, but not the noticeable fixture when it is not on.  Spray paint and drying time must be allowed and of course the more ornate the fixture the more parts to separate and mask prior to the color change.  Kilz spray is quick if paint will not adhere to the surface.  The electrician may do this prep at his regular hourly fee, otherwise the contractor or designer may be the one on site to attend to it.  Most larger fixtures are painted off site and delivered finished, often by the lighting company.  A combination of colors can often soften tones in a bath area where fixtures are not available in the same finish.  The interior designer or lighting company may faux the finish to make the light fixture more compatible with the sink and tub faucets and handles.
Various types of lighting should be used in any interior situation for the most successful end result.  Cans and track provide general illumination, task lighting is necessary in desk and working areas including under counter in kitchen, laundry, etc.  Accent lighting highlights art and areas of interest.  Lamps provide ambient lighting and up lights in plants and art areas accent these details with yet another source.
Wireless systems are available that will allow you to gang your lighting together for an area.
Lighting fixtures need to coordinate with each other and the style of the architecture.
Exterior fixtures need to enhance and reinforce the style of the home.
Interior fixtures may be more diverse to coordinate with the decor.  Permanent fixtures should look like the belong in the space if there is no furniture present.  This is a rule of thumb that can prevent impulsive purchases, but shouldn't inhibit creative inclinations.
Scale is the most important consideration both inside and out!  The dining fixture should not be bigger than the table underneath and the scale of the table and fixture should be compatible.  The fixture should be 30″ above the table in a home with an 8′ ceiling, add 1″ for each additional foot of ceiling height. No table?  Add the length of the room in feet to its width and use that number to find and diameter  in inches of the perfect chandelier!  The competence of your design team can largely be determined by their competence in this area.  Many professionals scale all of these details to determine the perfect size.  It is worth it to get expert help.  Errors in this area are costly!  There are hundreds of lighting companies and in this economy the availability of their products change from day to day.  Ordering from an established lighting company gives you a baseline for the quality you can expect along with their knowledge of backorder times and how dependable these dates are.  They may even substitute as you have to have enough of the lighting completed in order to pass inspection and move in to your home!
Tip:  Locating any switching close to the corner or start of the wall is key if you don't want to move it in order to hang art or other objects that may be much more attractive than a switch plate!  The same applies to thermostats and security pads.
Tip:  LED is great for landscape lighting-Kichler has a great line.
Tip: Dimmers do lower electrical usage.
Tip:  Use the Cree brand LED bulbs in lamps. They should pay for themselves within a year.
Tip:  The Philips LivingColors Bloom LED lamp gives you a color wheel option of changing the coloration of an area! With the addition of a Philips Hue Bridge, the lamp can be controlled from your iPhone, iPod or iPad! These devices are also enabling hands free showering and control of lighting and speakers.
Tip:   Love to read in bed? The typical height for a swing arm lamp is 42" from the bottom of the shade to the floor. Both Christopher Norman and Hinson-Hansen have good choices. Adding dimmers is advisable.
Adding ceiling fans?  These change and alter the number of lighting fixtures.
There are continual additions to tablet capabilities for adjusting and activating all interior electrical.
Video doorbells and home security options are all part of the integrated system.
Hubbardton Forge, Hinkley Lighting, Corbett-Troy CSL are a few of the well known and established companies.
Dots Legend
Tip
Energy
Universal Design
 Residential Design Elements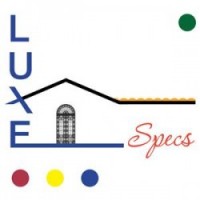 All data and information provided on this site is for informational purposes only.  Luxespecs.com makes no representations as to accuracy, completeness, currentness, suitability or validity of any information on this site and will not be liable for any errors, omissions, or delays in this information or any losses, injuries, or damages arising from its display or use.