The most popular layout of kitchens with the back wall as the focal point works so well with the adjoining space for dining and television viewing that it is sure to continue as the current trend.  The kitchen is  the gathering spot so with one or two islands for prep and dining in front of the back wall the space can work in most situations. It is possible to develop this look in every style possible!  Make sure you have enough countertop space with this design. The back wall may form an L or U to accommodate appliances, but do watch walkways with opening oven and refrigerator doors.  Keep in mind landing space for food and hot dishes. You can achieve this integrated look without sacrificing function! The goal has become a seamless flow of the kitchen with the adjoining space. The design of the kitchen is more important than it has ever been.  Many great choices will allow a beautiful and functional family gathering area.
The back wall is the focal point with the range/backsplash/hood or another defining element for visual impact .  A balanced distribution of cabinetry and stainless steel,  expanses of countertop for landing and prep areas and the process has begun!  Wood panels are an option for appliances to blend in with cabinetry.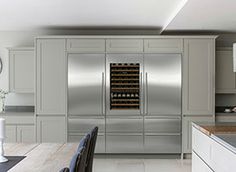 Appliance selection will coordinate with this design. Will the dominant kitchen wall be viewed from the entry or an adjoining gathering area?  Choose the best combination to start your focal point wall.  It may be a Wolf range and custom hood or stunning tile.
The appliances may be from many companies and finishes and handle compatibility need to be considered. There are so many companies that make good appliances that selection can be confusing. Therein lies the dilemma for choosing compatible appliances that will be viewed together in one area!
Let's start with Sub-Zero refrigerators.  They have been the industry standard for quality in luxury homes.  (In other countries it is Gaggenau)  Sub-Zero has reformatted their line so their integrated components can be used side by side. This will add to the ease of creating the new look that is so popular. Integrated options have no visible hinges or grilles. In addition to the refrigerator and freezer columns that are separate, there are refrigerator and freezer drawers, the French door refrigerator, microwave and dish washing drawers.  The built-In products can be installed side by side in a handle to handle configuration only.  In a handle to hinge application a vertical cabinet divider is required.  The refrigerator/freezer does have two compressors and many chefs and homeowners conclude that the food stays fresher longer with a compressor for the refrigerator side rather than warmed air from the freezer side that a single compressor refrigerator has.
If a range is not used then a cooktop with double ovens creates an entirely different look. Companies other than Sub-Zero Wolf are often used for the dishwasher, ovens, built-in coffeemakers, etc. Two dishwashers are a consideration along with warming drawers and a microwave or convection microwave.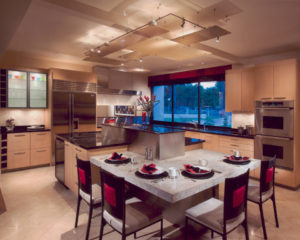 Quality appliances are recognized as a standard for the luxury home. The refrigerator needs to be integrated with wood panels or the stainless steel appliances need to be distributed around the room in a balanced design. The balance of stainless steel needs to be considered as the range and/or ovens will not have wood fronts to match the cabinetry. The wood panels for the dishwasher, refrigerators and freezers are made by the cabinet maker and not included in the refrigerator price and don't forget the handle to open the doors, it needs to coordinate with other cabinetry hardware. If you need this oversize handle start your selection for your cabinetry hardware with this handle. Typical choices include 36" and 48" stainless models with all refrigerator, all freezer and combination options. Sub-Zero integrated products have no visible hinges or grilles thus allowing the total cabinetry look.
The visibility of the refrigerator from other areas (the front door, dining room, great room) helps to determine this priority.  Available in 27" columns, 36" with separate freezer drawers and other options, 48" stainless inside and out, the French door refrigerator and integrated drawer options making kitchen design more exciting than ever. Consumer reports also recommends Thermador.  Miele, GE Monogram, Viking and Dacor are additional considerations.  Others might be considered for a sleek, contemporary look, color (Viking) or for door configuration.   Thermidor's also has refrigerator and freezer columns.   Liebheer is a great European contemporary look.  The Samsung "Family Hub" has a touchscreen to connect to smartphones-see what's in your frig while shopping!  Whirlpool Smart Appliance allows automated cooking with access on a mobile app.  Jean-Air integrates with Nest.  Bosch's line of 24″ appliances is designed for compact high end living.  Gaggenau evolved from professional kitchens with refined engineering that is both rugged and sleek with a handleless minimalist line and limitless cooking options.
The next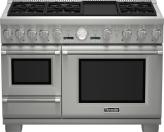 most sought after appliance in custom homes is the Wolf range for gas cooking.  Again a favorite with chefs.  The scale of this range can easily create the basis for a focal point in the kitchen with a custom hood above and great backsplash detail.  Imported ranges that offer varied options are listed below with internet discussions on features.  The biggest supplies will offer information as well.  The look sets the tone of the space.
Steam ovens are the most popular new appliance.  A combination of steam and convection provides a healthier, tastier choice.  An entire meal can be prepared in this small, time saving oven.  Reheating with moisture is a plus for taste.  Most are adding this to the list of necessary appliances, but not deleting the microwave.
The Dacor range is great as is GE Monogram (has wi-fi connect), Thermador and Viking.  Thermidor's 60″ Pro Grand Range offers steam and convection oven, six gas burners, griddle/grill, warming drawer and an additional convection oven.  The Aga comes in interesting colors and has a following, but they heat up the room-great in some areas.  They do have a conventional gas stove suited for the US market.  Blue Star has great features as well with many color options.  The Chateau (French mfg.) 150 range by La Cornue has ten new colors and has more than 8,000 configurations.  Bertazzoni embraces the Italian family and culture in its offerings.  Miele PureLine and ContourLine designs in White, Truffle Brown, Black and Steel are another great line.  Research further at their web sites.
If you are making a custom hood, you need an exhaust liner.  Vent-a-hood is quiet and a great choice, but GE Monogram, Kitchenaid, Thermador and Wolf have dependable options as well. There are over 200 companies that make hoods if you are not doing a custom design.   Zephyr has some interesting styles with dimmable LED light that exceeds Energy Star requirements!  Poggenpohl Visor range hood is integrated into the cabinetry.  Miele has received awards for the Lumen hood in stainless with an LED light band.  Considerations for performance and minimum noise from hoods:  never make the size or area of the duct smaller than the size that originates at the hood-the larger the ductwork, the better.  Do not exceed 50 ductwork feet and separate two 90 degree elbow turns with at least 24" of straight ductwork.  When using a remote exterior blower, use one 90 degree elbow to reduce noise transmission back to the hood.  Place transition pieces at least 12" from the hood outlet or remote blower inlet.  Codes determine the height off the heat source and the closer it is to the size of the cook top/range top the better it will draw.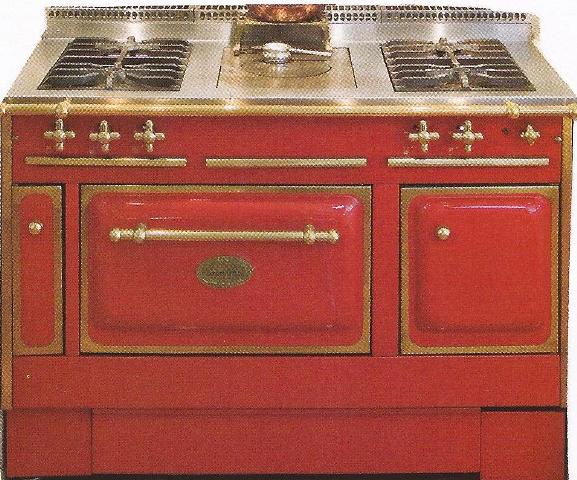 Kitchens are labor intensive.  Use as much advice as you can possibly get from appliance manufacturers that are selling product every day and a team that can make the space visually flow and functional.  If selecting from one manufacturer to simplify the process Thermador,  GE Monogram, Kitchenaide and Miele have good choices in every area.


Other Great Appliance Considerations:
Induction cook tops are so fast and easy.  They heat up in seconds and you wipe the glass top clean.   Thermador, Wolf, and Miele are all good choices.  Make sure you have enough power if you intend to use all burners simultaneously.
New technology makes it possible to use induction under a continuous countertop so the entire surface is available when the heating element is not in use.  Wolf has a countersunk cook top as well has 15′ wide modules in electric, gas or induction.  Fisher & Paykel has a 12″ wide, two burner induction cooktop.  Miele's induction cooktop communicates with their ventilation hood through Con@ctivity 2.0
Wine coolers:  Sub-Zero, GE monogram, Marvel, Kitchenaid, GE Profile and U-Line.
Dishwashers: Miele, Bosch, Asko have models that heat the water to a higher temperature and are very quiet.  Energy Star ratings insure water efficiency.
Fisher Paykel has dish drawer dishwashers, check for sizes with the manufacturer.
Gas Cook tops: Thermador, Wolf, Dacor and GE Monogram.
Microwaves GE for general use/warming.  Dacor, Miele, Wolf and Thermador for real cooking. Several of these are made by the same manufacturer.  Sharp has a microwave drawer that is useful for spacing considerations.
Fisher-Paykel has a multi temperature refrigeration drawer and there is individual drawer refrigeration from sub-zero, GE and Kitchenaid.
Warming drawers: many options from the above companies.
Wall ovens:  Dacor or any of the above companies.
Ice-makers:  U-Line, Scottsman, Sub Zero, Marvel, GE Monogram, Viking and Kitchenaide.
Washer and Dryers:  Miele and Asko under counters.   Whirlpool Duette, Electrolux, GE Profile and Maytag for other considerations.   GE may actually have a cream color-there are so few color choices that if it is your top priority start with color!
Outdoor Grills:  Wolf, DCS, Capital, Viking and GE Monogram.
U-Line has an Energy Star rated outdoor under counter refrigerator.
Kalamazoo Outdoor Gourmet has a dishwasher designed for outdoor use.
Pizza ovens:  independent unit from kalamazoogourmet or order the oven from Earthstone to create a custom design.
InSinkErator:  has always been a top garbage disposal-their new low profile PRO 1000LP series is redesigned and improved.  2hp preferable.
Water Filtration:  Aqua Pure, Body Grow, Environmental Water and Overture.
Consider adding a reverse osmosis system.
Don't forget the kitchen sink! Stainless steel sinks are rated by gauge.  Farmhouse sinks are popular with one large area as are other configurations that separate the garbage disposal area from the other section or sections.  Function, spacing and design all enter into the choice.  Material choices include porcelain, enamel, composites, stainless steel, copper, concrete or cast iron.  Integrated solid surface sinks that are one with the countertop are sleek and easy to clean.  Add sinks for vegetable prep, drinks and pets.  Blanco (check out the Ronis Entertainment Sink featuring MicroEdge), Elkay (check unique shapes and quartz luxe farmhouse), Franke, Kohler  and Rohl  are some of the best and the same companies have faucets.  Brizo's Coltello faucet has a LED light to indicate temperature.  Grove's LadyLux3 Cafe Touch allows you to tap your foot to turn the water on and off.  Additional companies for faucets include:   Newport Brass,  Grohe, Blanco, Brizo, Dornbracht, Kallista.  The same companies typically have bath faucets, handles and shower heads.  Add soap dispensers and water filtration from the same companies.  Hands-free faucets eliminate germs, running faucets and add convenience.
79.6" is the highest a person 5'3" – 5'7" can reach.  When reaching over a 25" base cabinet the distance for reach is 69".   24" off the floor is the lowest comfortable reaching distance.
48" side to side and the front 18" of the countertop is what is used.
Televisions need to be considered with the appliance list with cabinetry and electrical to accommodate it.
Countertops-  (Also check that section on this site)  Tip: Over 70% of home buyers and those remodeling consider granite, marble, limestone, quartzite or quartz  countertops essential. These products are durable and attractive. Quartz is gaining in popularity and has options that are not available with granite – more solid color choices and light options. It is a man made product, the costs are similar but it needs less maintenance.  Avoid direct contact with high temperature as the resins in composites may discolor.  The longevity of the finish  with the natural stones depends on how the countertop is cared for.  Stone cleaner and stone spray will extend the finish. Limestone is higher maintenance as is marble.  Black granite is great and the quartz composites in gray a good choice for a concrete look.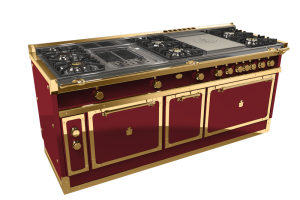 Another showstopper is the Officine Gullo bespoke double oven range in more than 650 colors and three finishes.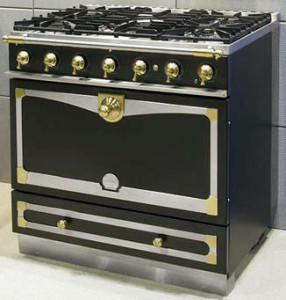 Bertazzoni of Italy has some great color options including Ferrari and Lamborghini colors.
W collection by La Cornue recreates the owner as a master chef!
The AGA Marvel Ra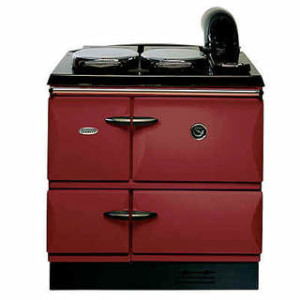 nge features two hot plates, three radiant heat burners, cast iron ovens with presets at the correct temperature for roasting, slow cooking and baking.  The newest color, Claret, is inspired by Bordeaux wine!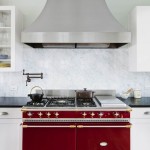 Lacanche another imported consideration.
Dacor has voice kitchen technology as part of its Dacor iQ Remote App and you can pick the range color!
Alexa will also save you time!  and Escali linked to an app can track calorie and nutrient intake!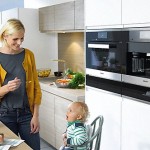 Built in coffee stations are another luxury option.  Miele, Wolf, Thermador, Jenn-Air and others are available.  TopBrewer has just the faucet exposed.  Add space in the cabinet under it for the machinery.

There is more inspiration and information on my Pinterest boards!
Appliances    Kitchens     Great Sinks
Dots Legend
Universal Design involves space for wheel chair access while preparing foods and cleanup.  Typically open spaces under the countertops.  The entire space would be detailed with the individual in mind to make day to day living the most convenient and functional.
Residential Design Elements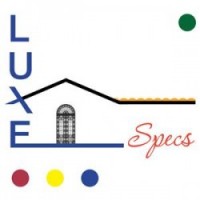 All data and information provided on this site is for informational purposes only.  Luxespecs.com makes no representations as to accuracy, completeness, currentness, suitability or validity of any information on this site and will not be liable for any errors, omissions, or delays in this information or any losses, injuries, or damages arising from its display or use.